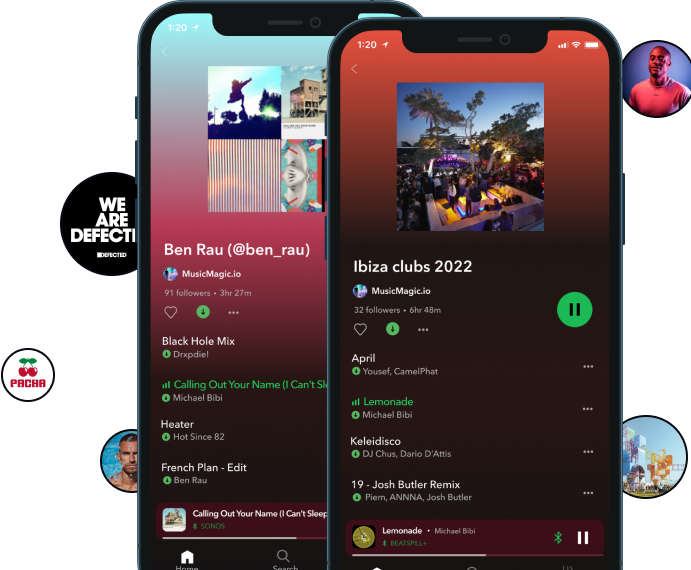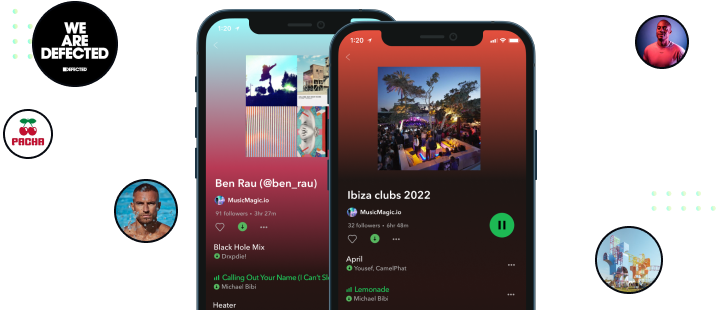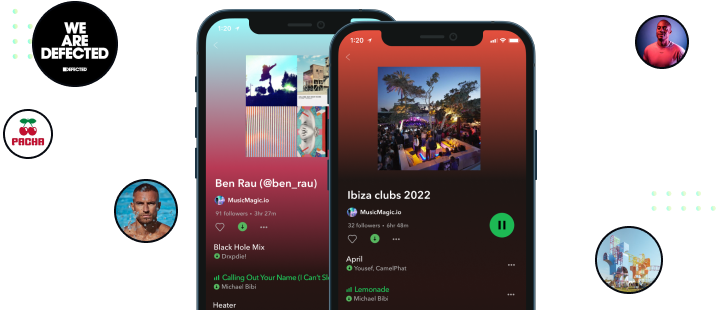 Listes de lecture personnalisées
en quelques secondes
Sélectionnez jusqu'à 10 comptes Instagram pour créer l'ambiance de votre liste de lecture Spotify et laissez notre magicien de la musique faire le reste.
Écoutez les meilleures listes de lecture Spotify, construites avec magie.
Afficher plus de listes de lecture
Notre magicien de la musique surveille les histoires et les publications Instagram de vos artistes, influenceurs, festivals et lieux préférés. Repérer quand une nouvelle musique apparaît et l'ajouter à une liste de lecture Spotify, pour créer les meilleures listes de lecture contenant de la musique de tous ces "meilleurs moments" d'Instagram.
Afficher plus de listes de lecture
Musique émergente
Écoutez les dernières musiques émergentes présentées par certains de vos artistes et événements préférés.
Mis à jour quotidiennement
Nous surveillons constamment Instagram et mettons à jour les listes de lecture avec chaque nouvelle chanson.
Organisé automatiquement
Listes de lecture sélectionnées automatiquement par vos artistes, influenceurs, festivals et lieux préférés.
Listes de lecture populaires
Each playlist gets updated daily with the music featured in the Instagram Stories of your favourite artists, influencers and events - creating the most socially curated playlists on the planet!
Are you an event
promoter?




Build

playlists that sell.

Drive awareness, increase sales and build insights.
Instantly generate Spotify playlists for your events
Distribute through social media and direct marketing
Monetise each playlist with our promoter insights
Request exclusive access to our promoter platform
Engage Fans
Create personalised playlists for every ticket holder and fan.
Promote Artists
Feature your line-up in every playlist generated for added promotion.
Increase Reach
Build or grow your audience on Spotify with branded playlists.
Build Insights
Learn about your ticket holders and fans, to improve messaging and increase sales.